Reading Time:
6
minutes
Instagram is the go-to place for hundreds of millions of people to share their photos, videos, and stories every single day. In this post, we'll dive head first into how you can use Instagram for your small business and show you how you can connect with your audience on the platform. If you want to use Instagram for business, think about your own experience on the app.
You're scrolling through Instagram and enjoying your curated feed. It's a mix of your personal friends, content creators, cute animals, and brands.
No one made you follow those business accounts; you chose to. And every time you see one of their posts or Instagram Stories, you actively choose to continue following them.
But why?
When you use Instagram for business, that's the question you need to answer for your potential customers—why should they keep coming back for more?
We've put together our top Instagram for business tips to help you promote your business on the app.
Instagram for Business: 8 Tips to Grow Your Audience
1. Decide why you are using Instagram for Business
When using any marketing channel, it's important to have goals you want to achieve. Instagram is no different. If you're going to invest your time and money in Instagram marketing, ask, "What do we want to achieve?"
Common Instagram business goals include:
Increase brand awareness;
Build a community;
Showcase company culture and values; and
Sell products and services.
Write your goals down and continuously monitor them. Think of your written goals as a formalized gut check. It encourages you and your team to be more intentional with your Instagram content because you can always refer back and ensure everything you share serves those goals.
Bonus tip: If you're using Instagram for business to drive more sales, we've put together a comprehensive guide (free worksheet included) that will teach you everything you need to know to set up your shop and get your Instagram page and posts optimized to drive sales for your business. You can download it here!
2. Optimize your profile
If you're using Instagram for business, think of your profile as your homepage. You get 150 characters, one link, and a few action buttons to win over potential customers—so be sure your profile makes a good impression.
First, make sure you switch to an Instagram business profile. Business accounts offer extra features that allow you to expand your profile, track content performance, and sell on Instagram.
Next, write a killer Instagram bio. Your profile should include:
A quick description of what your company does;
Your category/industry (Shopping & Retail, Business Service, Restaurant, etc.);
A tone that shows off your brand's personality;
Contact information (phone number, email, address, etc.); and
A link.
The only place on the Instagram app where you can share a clickable link is in your bio, so this is valuable real estate. You can keep a static link to your homepage or frequently change the link to reflect current content. However, link-in-bio tools such as Buffer's Shop Grid help you use the link more strategically by turning the single link into a catalog of resources.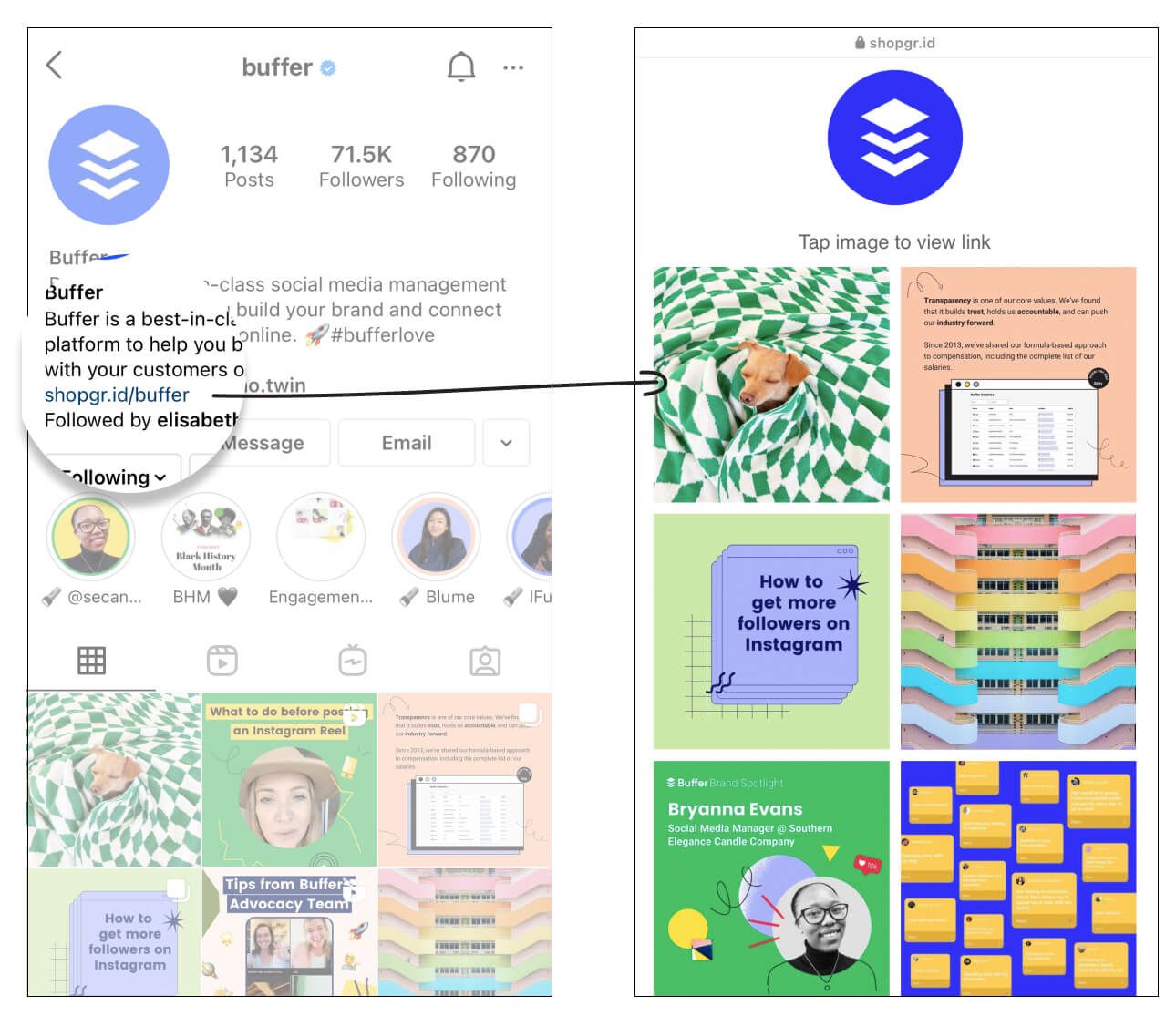 Instagram business accounts also have access to Action Buttons—additional clickable buttons for specific calls to action such as Book Now, Contact, View Shop, etc. Action Buttons are a great way to get more links into your profile and make it easier for your fans to interact with you.
Lastly, don't forget to consider your grid. When people visit your profile, they'll see your recent posts in grid form. Avoid sharing visually similar posts back-to-back, so your grid always looks appealing.
Bonus: Use a recognizable profile image
When it comes to choosing a profile picture, it's important for people to instantly recognize it when they visit your Instagram profile. For most businesses, this means choosing one of the following options:
Logo
Logomark (the logo, minus any words)
Mascot
There's definitely no right or wrong here and don't feel you must limit yourself to one of these options, but think about what will help people who visit your page to recognize your brand the quickest.
3. Find your visual aesthetic
On Instagram, it's all about the visuals. But what works for one business might not be right for yours. Think about what aesthetic you want to present on your business page, then design branding guidelines so you can stay consistent.
Pay attention to your color palette. Some of the most successful Instagram accounts tend to use a select color palette for their photos, helping them to create a distinct style. For example, Oneika Raymond favors bright colors with high contrasts.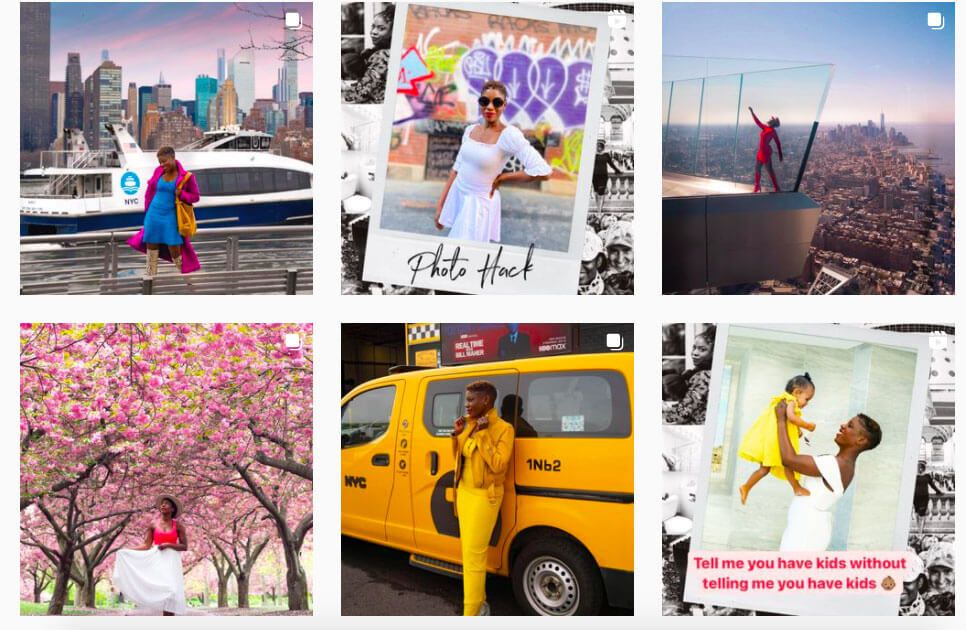 If text plays a key role in your Instagram content, it's important to also think about the font you're using and how it relates to the fonts used on your website or other marketing materials. Shine with Natasha, for instance, keeps a consistent look with her bright yellow and white colors along with a standard font across Instagram posts.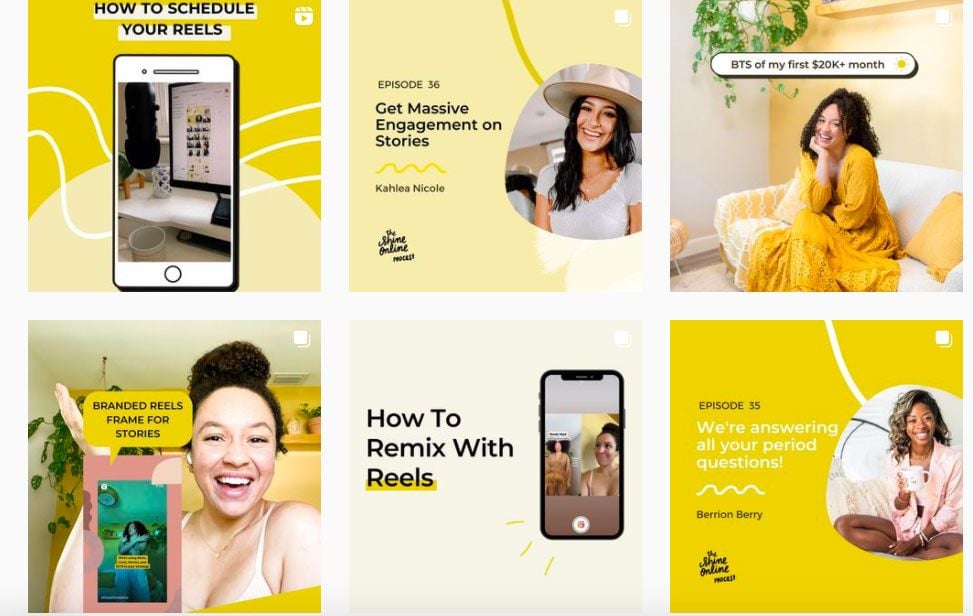 4. Post consistently
Sticking to a regular posting schedule helps you show up in your target audience's timelines. Instagram strives to show each person the content they're most likely to enjoy, so it looks for content that is recent and relevant to each person's interests.
Instagram's algorithm uses machine learning to continuously study each person's activity and customizes their timeline accordingly. People can't like what they don't see—posting regularly helps you show up in people's feeds and give them more chances to engage with you. The more they interact with your content, the more often they'll see it in their Instagram feed.
Publish Flawlessly. Analyze Effortlessly. Engage Authentically.
Buffer is the all-you-need social media toolkit that lets you focus on doing what you love for your business.
You can stay on top of your content by scheduling posts in batches so your account never goes dark if you get busy. Plus, scheduling makes it easier to experiment with posting times. While there's no single best time to post on Instagram, there may be ideal times to post to reach the majority of your audience. With Buffer you can set up preferred time slots, so all you have to do is add content to your queue and the posts will automatically be placed into the next available slot.
Then, you can check back to see if posts slotted at specific times get higher engagement rates than others.
5. Leverage hashtags to reach new audiences
Hashtags have become a uniform way to categorize content on many social media platforms. Hashtags allow Instagrammers to discover content and accounts to follow. Research from Track Maven found that posts with over 11 hashtags tend to get more engagement.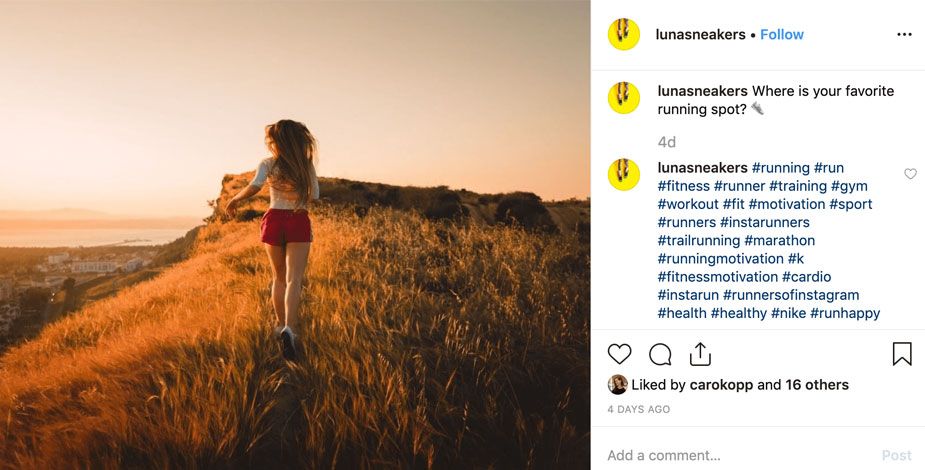 But it can be difficult to organize, group and save hashtags — with many people saving groups on their phone ready to copy and paste to each post before publishing. With Hashtag Manager Buffer customers can create and save groups of hashtags directly within the Buffer composer.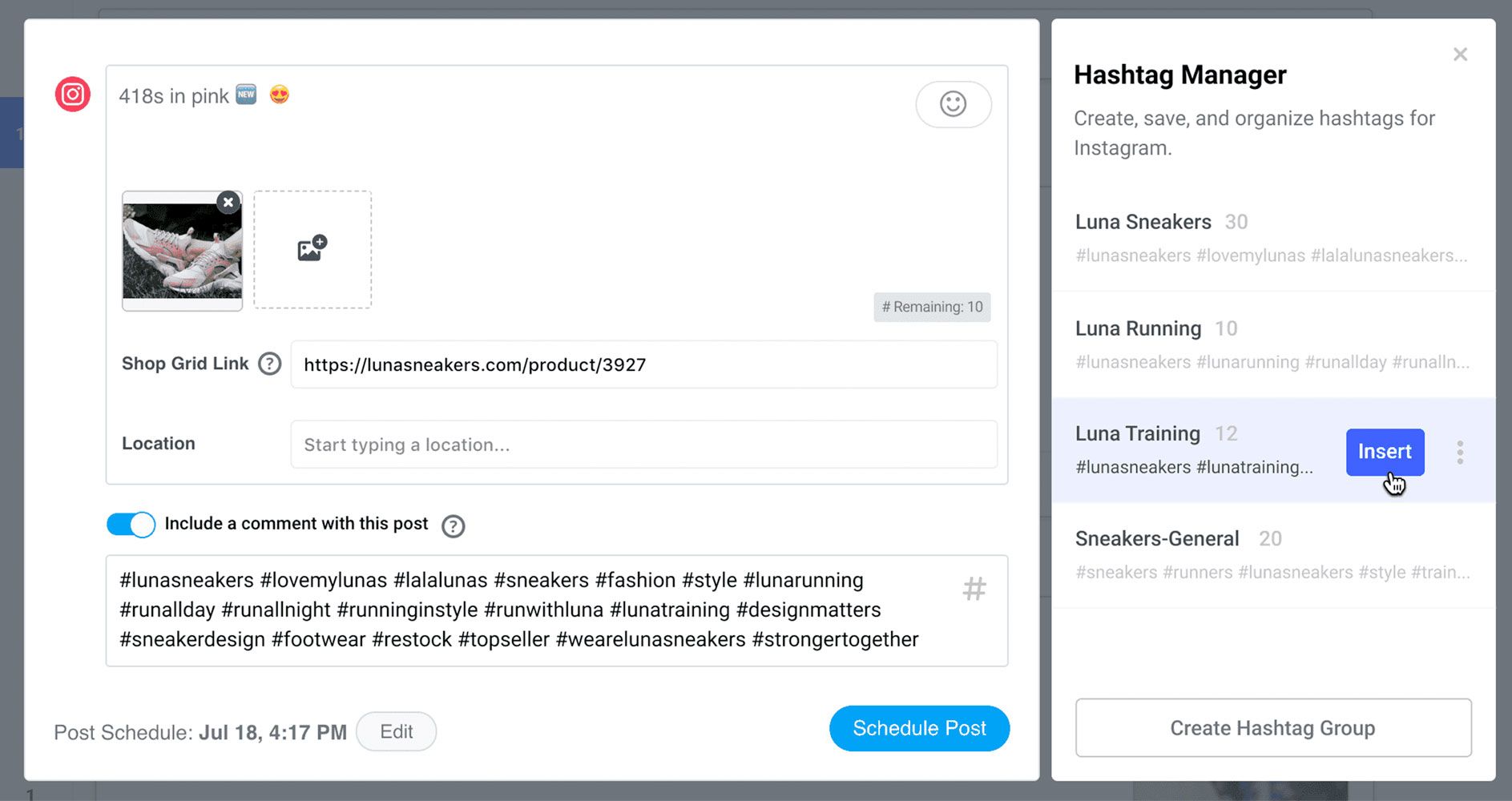 6. Engage with your community -Instagram for Business
Using Instagram for business doesn't mean turning your profile into a nonstop sales pitch. Instagram is a social media platform, so learn to socialize.
If someone takes the time to share their thoughts with you, it's important to respond to them and show that you're listening. Responding to comments is a great way to build a strong community on Instagram. With Buffer's engagement features you can respond to comments on Instagram posts directly within the Buffer platform—no need to tap out lengthy responses on a tiny phone screen.
Engagement prompts are a great way to encourage interaction as well. Play around with interactive stickers in Instagram Stories such as polls, questions, or sliding scale rankings.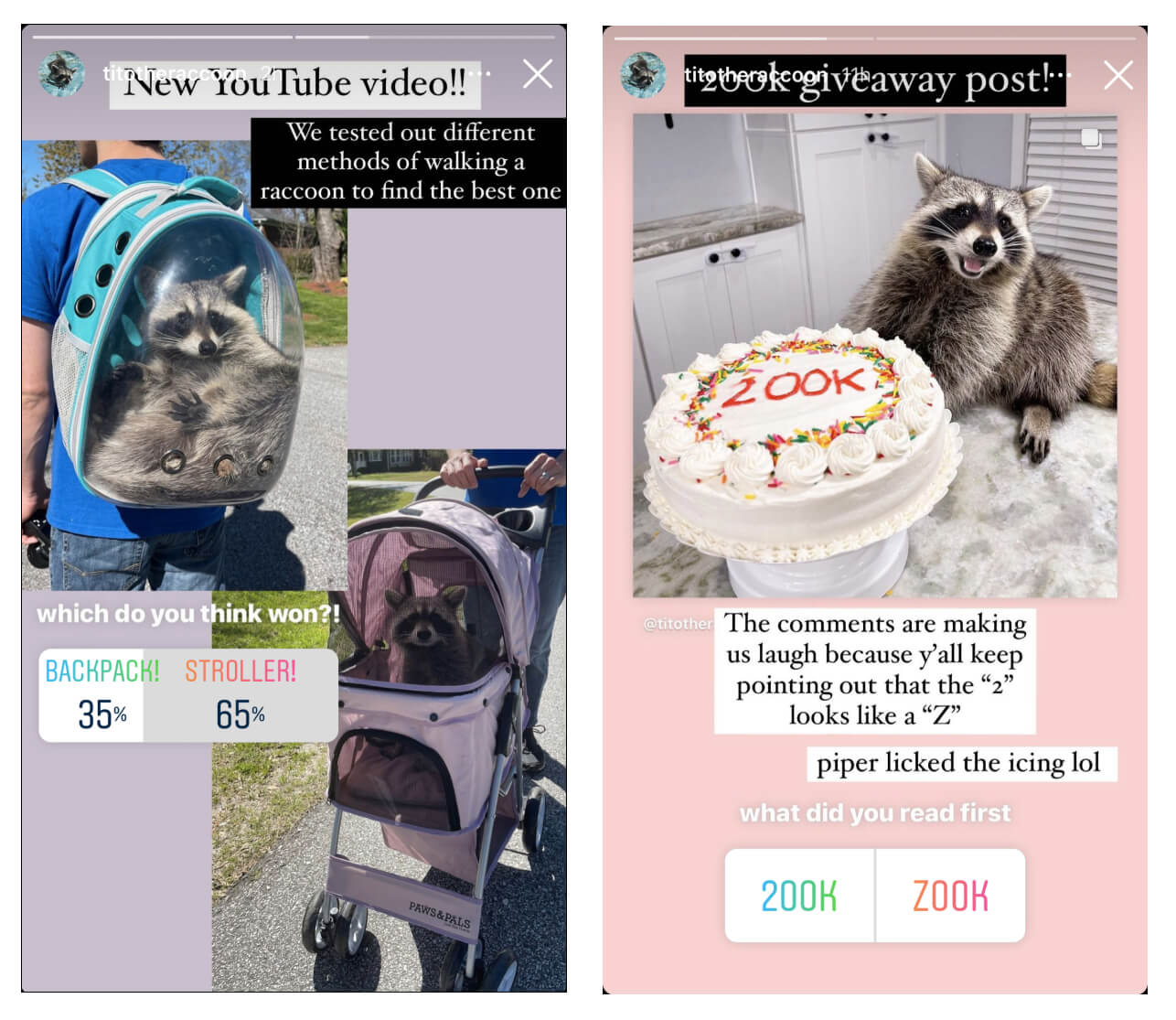 For posts, use your caption to ask questions and tell people to share their thoughts in the comments. It may feel cheesy but think of it as a real-life conversation. How weird would it be for you to talk at someone instead of with them?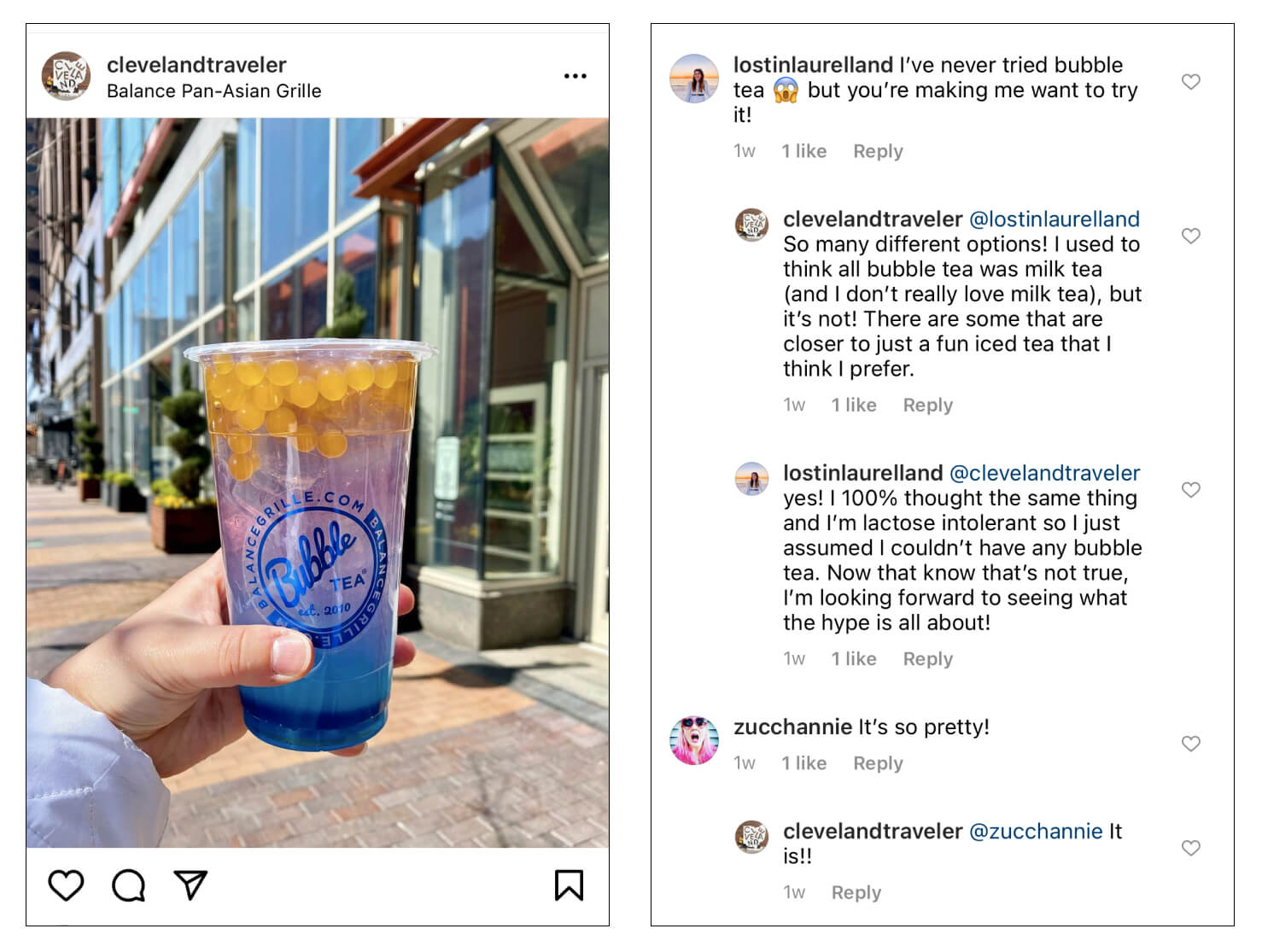 Just because you're using Instagram for business doesn't mean everything has to come from you. User-generated content (UGC)—any form of content created by a fan or contributor—is a great way to give your fans some love and inspire more people to engage with you. Encourage your community to share memorable moments and experiences they have with your brand across Instagram and ask permission to repost some of the best content to your own channels. At Buffer, we tried this Instagram marketing strategy and it helped to grow our audience by 400%.
Remember, your community is unique, so you'll need to cater your content to your fans' interests. Learn how to calculate and track your Instagram engagement rate so you can keep an eye on what's working.
7. Experiment with different content types
Instagram is so much more than photos. There are now a huge range of content types on the platform, including:
And if you want to increase your reach and engagement on the platform, it's important to share a mix of content types. As we shared in our Instagram growth guide:
"The algorithm looks at interest and strives to show people the content types that they interact with most often. So, if one person likes and comments on Instagram Reels more often than other post types, they're likely to see more Reels in their Instagram feed."
Each type of content has advantages and everyone has their own preferences on Instagram — some people love Reels, whereas others don't use the feed and only check Stories. So if you want to maximize your reach and engagement, the best strategy is to use a variety of content types.
Bonus: Write great captions
Captions are a chance to enhance your content further and there are plenty of ways brands use them. Some choose to treat captions as a place for sharing stories and micro-blogging. Others use them to add a short, snappy headline to a post. Still others use captions to ask questions and encourage replies. The possibilities are endless. What's important is to ensure the copy is aligned with your brand.
Good to know: Instagram captions are limited to 2,200 characters, and after three lines of text they become truncated with an ellipsis.
8. Analyze your results – Instagram for Business
One of the best Instagram for business tips we can give you is to dig into your Instagram analytics regularly. If you want to gain more followers, keep your audience engaged, and promote your business on Instagram, you have to monitor how your content performs.
Instagram's built-in analytics tool, Instagram Insights, is a solid start but can only be accessed via mobile. Plus, you'll need to open up each individual post to check on key metrics such as likes, comments, shares, and saves.
If you want to dig deeper and look at the analytics on a desktop, you'll need third-party tools. For example, Buffer 's analytics can help you track trends, compare post performance, and build custom reports around the metrics you care about the most. Remember those goals we talk about earlier? Custom reports can help you keep an eye on them.
Keep in mind that metrics only matter if they tell you something valuable. Likes are great for an ego boost, but is that why you're using Instagram for business? You'll gather more actionable insights if you look at metrics that tell you what motivates your fans to keep coming back to your content and paying for your products or services.
Let's say you create a tutorial video on IGTV. Saves and shares tell you that people find the tutorial useful and want to return to it, while likes are more passive. However, if you're running a brand awareness marketing campaign, likes and new followers are valuable success metrics. When analyzing results, you have to put them into the context of what you hope to achieve.
Make the most of Instagram for Business 2021
It's easy to get your friends to like photos of your fancy brunch or win views with a video of a puppy. Building up a business account isn't as simple, but we're willing to bet you still follow quite a few brands from your personal account—90% of Instagram users do. We're not saying you should copy your favorite companies, but you should think about what makes those business accounts worth following and let that inspire you. Then, combine that inspiration with the guidance we've laid out here to create an Instagram marketing strategy that's specific to your company.
Regardless of your business goals, Instagram is a powerful tool that can connect you with millions of potential customers. Get started with Imbassy today and start managing everything from scheduling to reporting all in one place.